This summer you can feast with your farmer! Three different local farms are making room among the veggies for three acclaimed chefs to prepare amazing meals. Read all the details below or at www.snovalleytilth.org and buy your tickets soon for June 15th, July 13th, or August 17th. Tickets are $95/person for each dinner and include a farm tour, Washington wine pairings, and a magical evening in the fields. All proceeds benefit SnoValley Tilth, the Carnation Farmers Market, and sustainable local farming.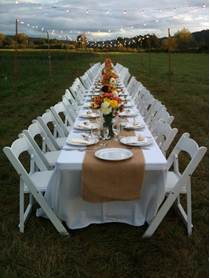 June 15th, 4:30-8:30 at Full Circle Farms with chef Peter Birk of Boka and featuring Southard Winery
Tickets at: www.brownpapertickets.com/event/377642
July 13th, 4:30-8:30 at Oxbow Farm with chef Mark Bodinet of Copperleaf Restaurant
Tickets at: www.brownpapertickets.com/event/377653
August 17th, 4:30-8:30 at Stuart Landing Farm with chef Matt Dillon of Sitka and Spruce
Tickets at: www.brownpapertickets.com/event/377662
SnoValley Tilth supports organic and sustainable food production in the Snoqualmie Valley. We strive every day to "Re-Seed the Valley" by promoting local, sustainable farming: education about the importance of local sustainable agriculture as well as how to use all that great produce, farm-to-school efforts, new farmer mentorship as well as farmer networking and resource sharing, environmental restoration and preservation, and development of the local food system including the Carnation Farmers Market. What better way to support those initiatives than to eat a delicious meal right on the farm, where most of the meal ingredients will be grown mere feet from the table!
Picture this: your evening starts with a short drive through the scenic Snoqualmie Valley to the farm, just 35 minutes from Seattle, or 15 minutes from Redmond. You are greeted with a welcome glass of local wine. Sipping, you walk the rows of the farm to see your meal's ingredients flourishing in their native habitat. After the farm tour and conversation with the farmers, you will settle into your seat at a long table in the field. The meal experience will entail four delicious courses, artfully prepared by a local chef with local, sustainably produced food ingredients. Each course will be paired with a fine Washington wine.
Now picture that magnificent meal helping support a great cause: SnoValley Tilth. All proceeds from the meals benefit SVT's efforts to "Re-Seed." By connecting local food-eaters and local food-producers we are creating a community where everyone can thrive.
For more information please contact:
Melissa Borsting, SnoValley Tilth
425-765-8764